J.S. Bach: Six Partitas (Hyperion, 2021)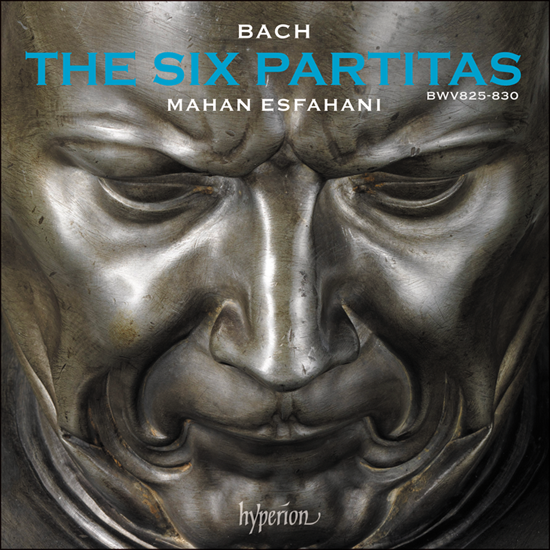 Recording Features
Gramophone Magazine - Top Recordings of 2021
Musique? (Hyperion, 2020)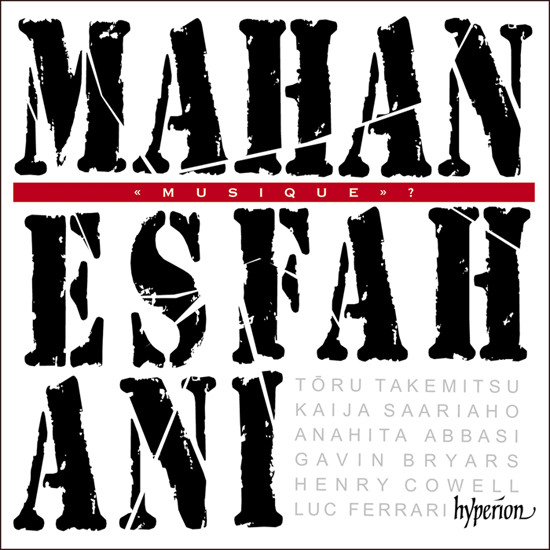 J.S. Bach: Toccatas (Hyperion, 2019)
Recording Features
#2 in the UK Specialist Charts, 2019
Billboard Charts, USA
The Passinge Mesures. Music of the English Virginalists (Hyperion, 2018)
Released on Hyperion Records, November 2018
"A seemingly inexhaustible supply of colour, dramatic potential, joyfully expressive variations of tempo and articulation—and the recorded sound displays Esfahani's flair and the instruments' range with immersive realism."
BBC Record Review
"This recording provides further confirmation of Mahan Esfahani's status among the finest keyboard players of his generation. For listeners who relish challenging material and interpretations on the harpsichord, he is perhaps the most exciting exponent in the present day."
Early Music Review
J.S. Bach: Goldberg Variations (BWV 988) (DG, 2016)
Released on Deutsche Grammophon, September 2016
"In his booklet-notes, Esfahani plays down his own abilities in face of past luminaries such as Wanda Landowska, Ralph Kirkpatrick, Isolde Ahlgrimm, Zuzana Růžičková and Alan Curtis. Don't believe Esfahani's modesty for one second. His Goldberg Variations clearly belongs in such company, and in all serious Bach collections."
Jed Distler, Gramophone
Recording Features
BBC Music Magazine Instrumental Award, 2017
Gramophone Editor's Choice, October 2016
ICMA Best Instrumental Nominee, 2017
Time Present and Time Past (DG, 2015)
Released on Deutsche Grammophon/ Archiv in 2015
"If you buy only one record of harpsichord music in your life — and that's a decision I would have some sympathy with – buy this sensational album. The 30-year-old Iranian-American Mahan Esfahani has been making waves among connoisseurs for several years. Now he emerges as a superstar whose musicianship, imagination, virtuosity, cultural breadth and charisma far transcends the ivory tower in which the harpsichord has traditionally been placed."
Richard Morrison, The Times
"A model recording for any instrument, not just the harpsichord. Concertos? Three, one by Gorecki, one by Geminiani, another by J.S. Bach, all weightily played by the Concerto Köln. Florid, stylish solo works? Two, both — like the Geminiani — based on the ancient "La Folia" theme, by Alessandro Scarlatti and C.P.E. Bach. Mesmerizing novelties? Of course: Steve Reich's "Piano Phase," rearranged and overdubbed for single harpsichord. Exhaustingly brilliant."
David Allen, The New York Times
Recording Features
'Choc de Classica' (June 2015)
Rameau, Complete Pièces de Clavecin (Hyperion, 2014)
What the reviewers say…
"A key factor in determining the longevity of an interpretation is the degree to which the performer succeeds in characterising the music and, on this point alone, top marks must go to Mahan Esfahani, who seems always to have its measure and brings unfailing wit, affection, fluency and pacing to his interpretations…Having just won a Gramophone Award for his superlative CPE Bach recording, Esfahani has surely trumped it with Rameau's solo harpsichord works."
Julie Anne Sadie, Gramophone
"Mahan Esfahani's second Hyperion recording comprises Rameau's keyboard works. This is stylish playing but rarely showy, firm but never heavy in dance movements, imbued with a natural wit in the character pieces. I could easily have picked his delightful disc of C. P. E. Bach's Württemberg Sonatas as well."
David Allen, The New York Times
"Esfahani is the poet of the harpsichord. For people who don't like harpsichordists he is the one that will convince you to listen. He's such a beautiful player and he is totally natural. He understands the dramatics of each movement and he projects it and, for me, it is totally persuasive."
Richard Morrison, BBC CD Review
Recording Features
Gramophone Editor's Choice
5 stars - Diapason
New York Times Top Classical Recordings of 2014
Byrd – Bach – Ligeti, Live at Wigmore Hall (WH Live, 2014)
Released by Wigmore Hall Live in 2014, from a May 2013 recital at Wigmore Hall, London.
"The harpsichord may never quite be mainstream material, but you sense that, if it were ever to get there, Esfahani might just be the man to make it happen."
International Record Review
Carl Philipp Emanuel Bach (1714-1788) Württemberg Sonatas
Hyperion is delighted to present the debut recording of the wonderful young harpsichordist Mahan Esfahani. He was the first harpsichordist to be named a BBC New Generation Artist or to be awarded a fellowship prize by the Borletti-Buitoni Trust.
Here Mahan Esfahani has recorded CPE Bach's six 'Württemberg' sonatas, which were written in 1742-3 and published in 1744, and his thrillingly intense performances make the best possible case for this dramatic, beautifully written, endlessly imaginative but for some reason under-performed music. The sonatas range stylistically from initial stirrings of Sturm und Drang in keyboard music to sublime imitations of the human voice, with nods to the High Baroque and the idiom of CPE Bach's more famous father. Mahan writes in his booklet notes that 'Carl Philipp Emanuel Bach makes the most combative statement possible to assert his new musical language'.
Recording Features
Gramophone Awards 2014 Best Baroque Instrumental Album
Sunday Times album of the week
Gramophone Magazine editor's choice
BBC Music Magazine recording of the month
Diapason d'Or May 2014